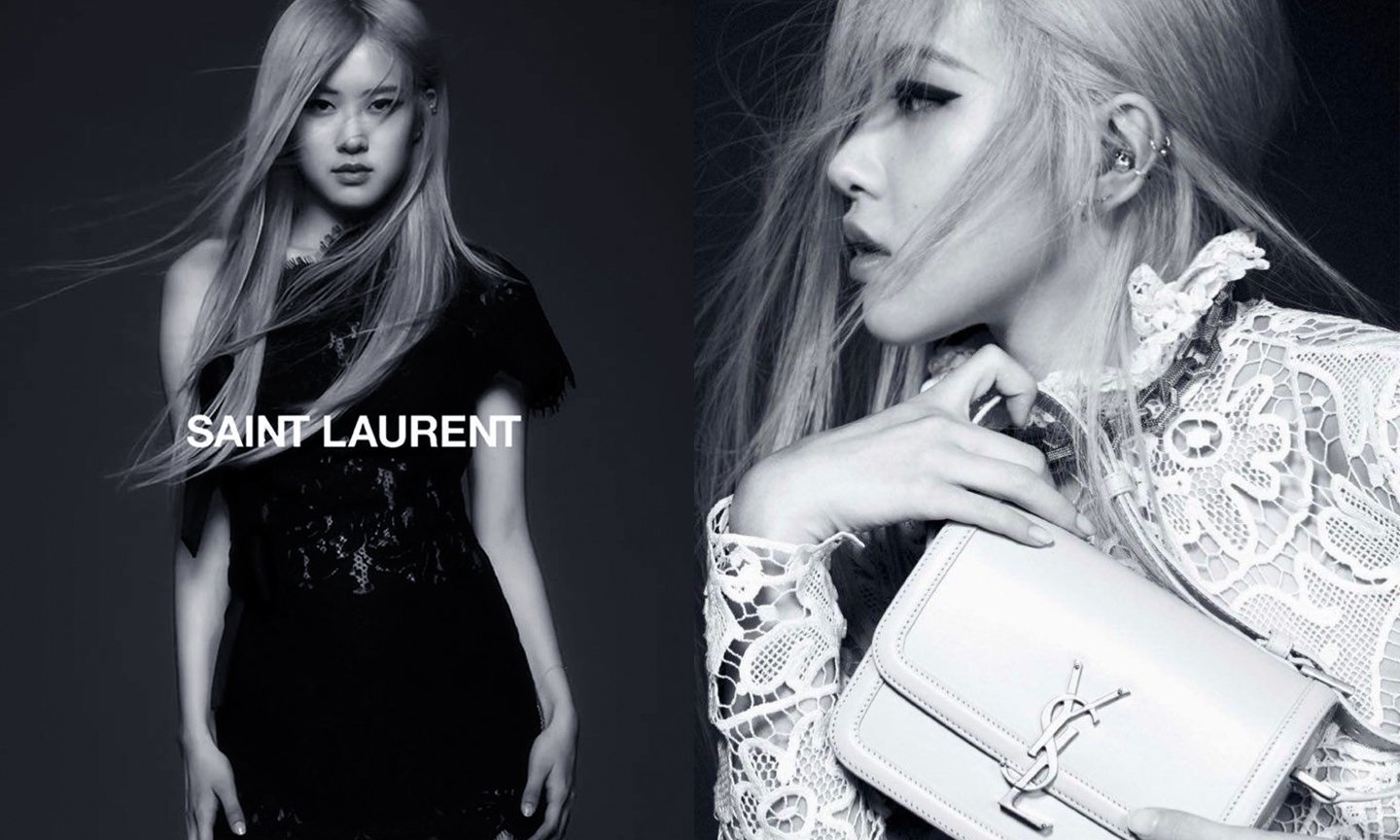 Yves Saint Laurent (YSL): Brand Evolution
Yves Saint Laurent, Saint Laurent or YSL, is a French luxury fashion brand that has been in the fashion industry for over 60 years. Founded in 1961 by designer Yves Saint Laurent and his partner, Pierre Bergé, the brand has become known for its innovative and groundbreaking designs, which have helped to shape the course of fashion history.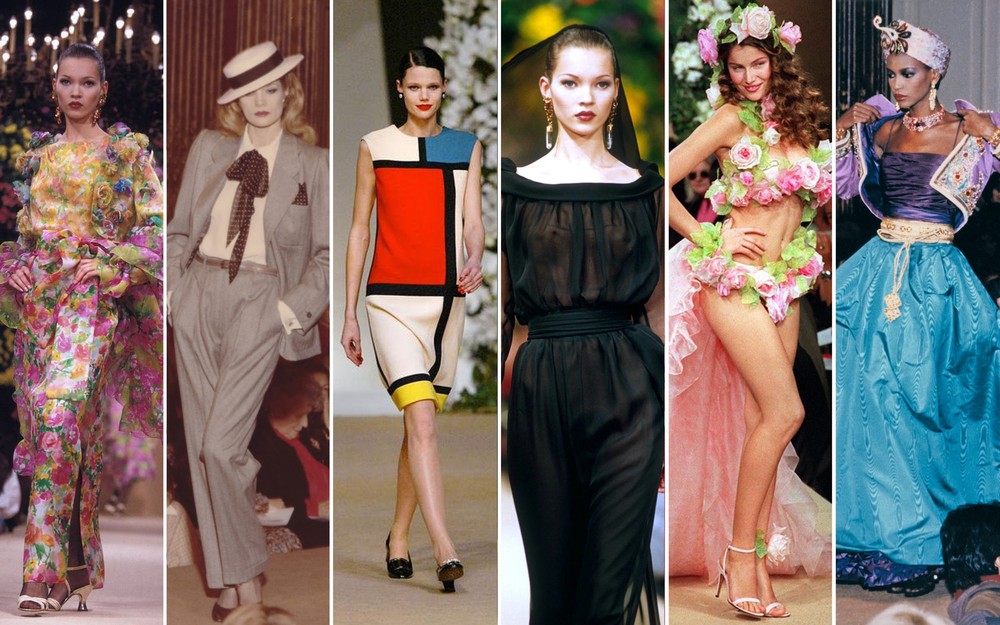 YSL has been pivotal to my own journey as an artist and management consultant. In 2014, my MBA dissertation subject was to conduct a detailed study on a brand of choice – Yves Saint Laurent. It covered origin, influences, brand management, campaign designs, advertisement assessment, marketing strategy development, and future line design. Over the years his work has inspired and influenced the creative adventures I embarked upon for myself and my clients.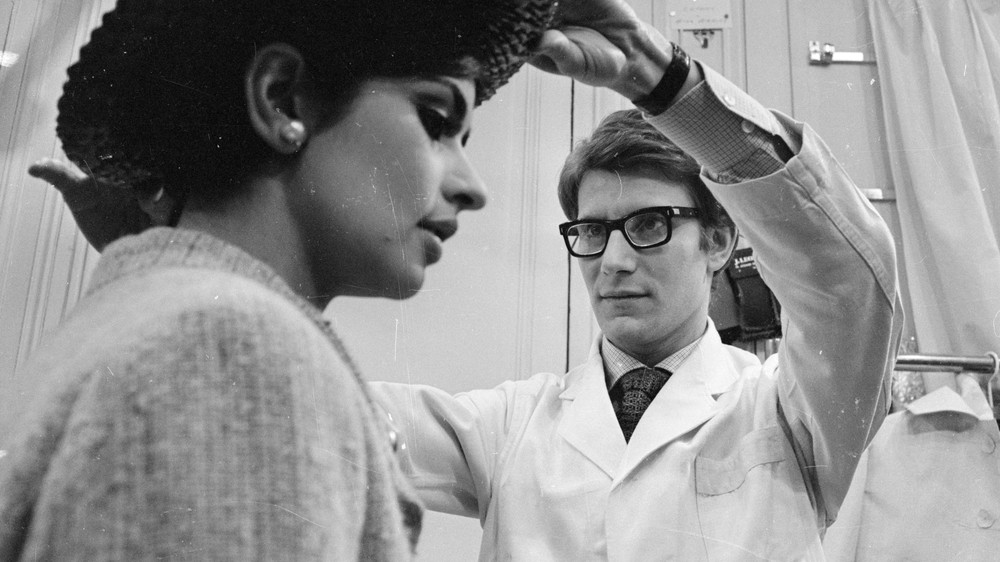 Yves Saint Laurent was a French fashion designer widely regarded as one of the greatest and most influential designers of the 20th century. Born in Algeria in 1936, he moved to Paris at the age of 17 to study fashion design. In 1957, he was hired as the head designer at Christian Dior, and he quickly gained a reputation for his unique and sensual designs.
Yves Saint Laurent was the first designer to introduce the concept of ready-to-wear clothing to the high fashion world.
1961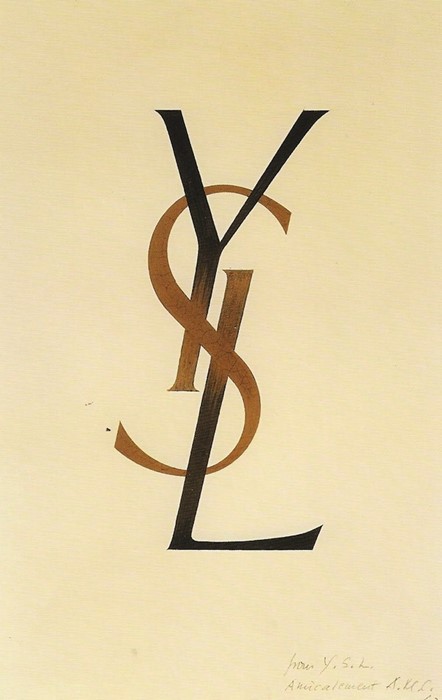 In 1961, the brand was launched and the YSL logo was introduced featuring the letters "YSL" in bold black letters with letters designed in a modern, sans-serif font, arranged in a stacked formation with the "Y" on top of the "S," which is on top of the "L". It remains present as one of the most iconic and recognizable logos of all time. This logo was designed by Adolphe Mouron Cassandre, a French painter, commercial poster artist, and typeface designer.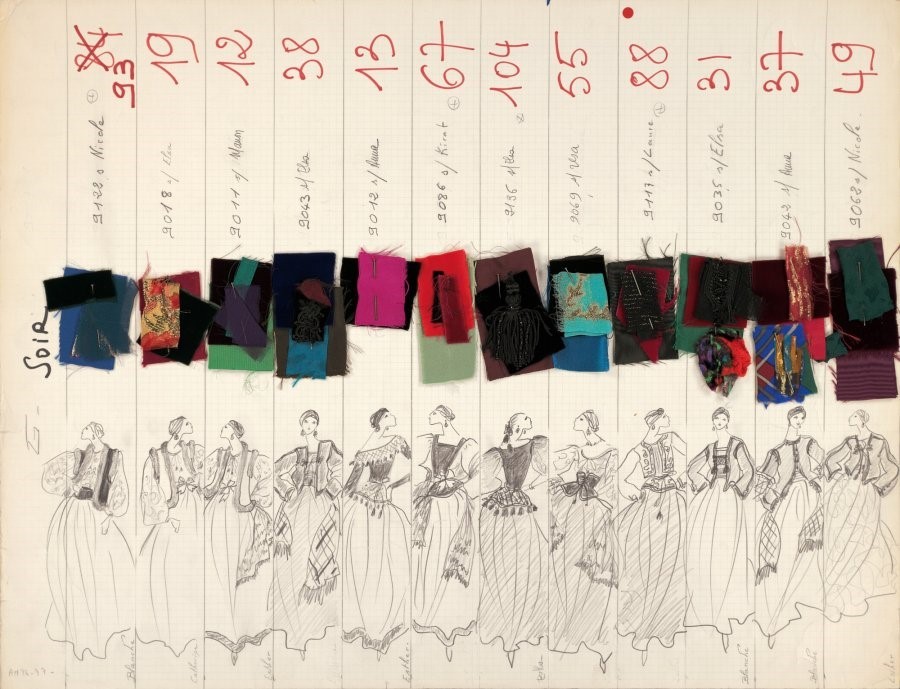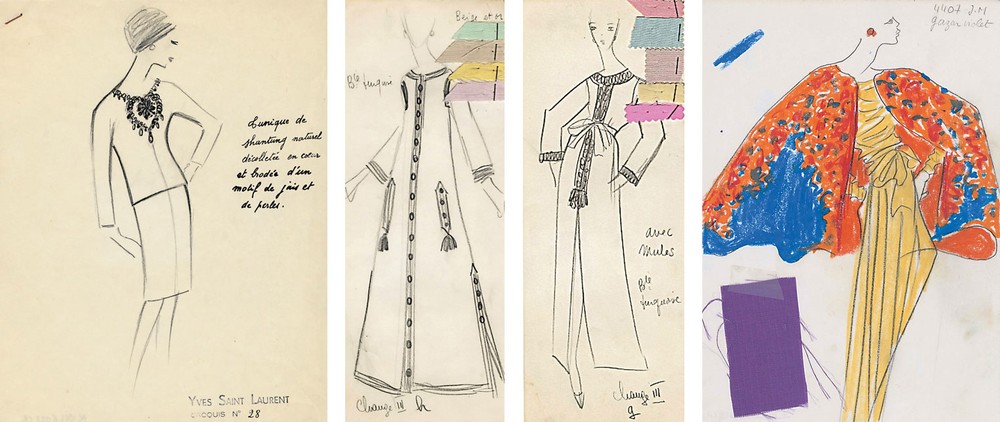 1964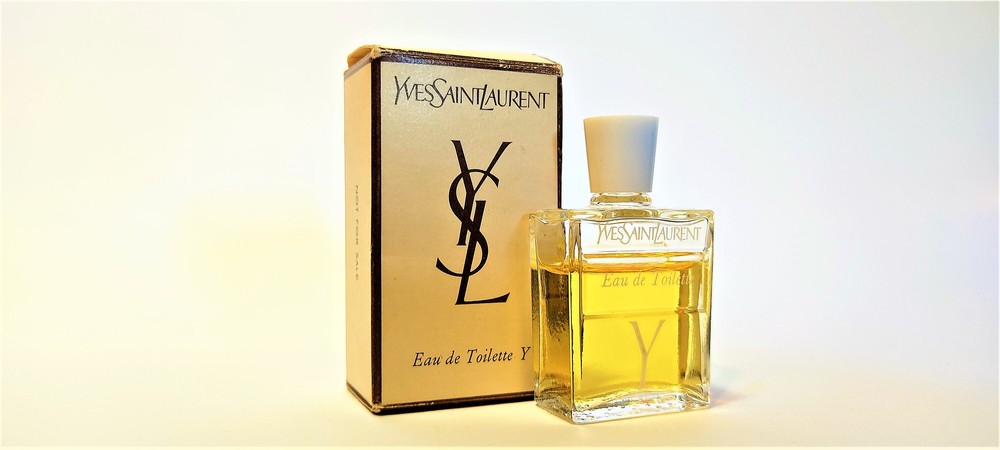 In 1964, YSL launched its first perfume "Y". "Y" became an instant success and was known as a revolutionary fragrance that broke traditional perfume conventions. "Y" was a unisex fragrance characterized by its unique blend of floral and woody notes.
1966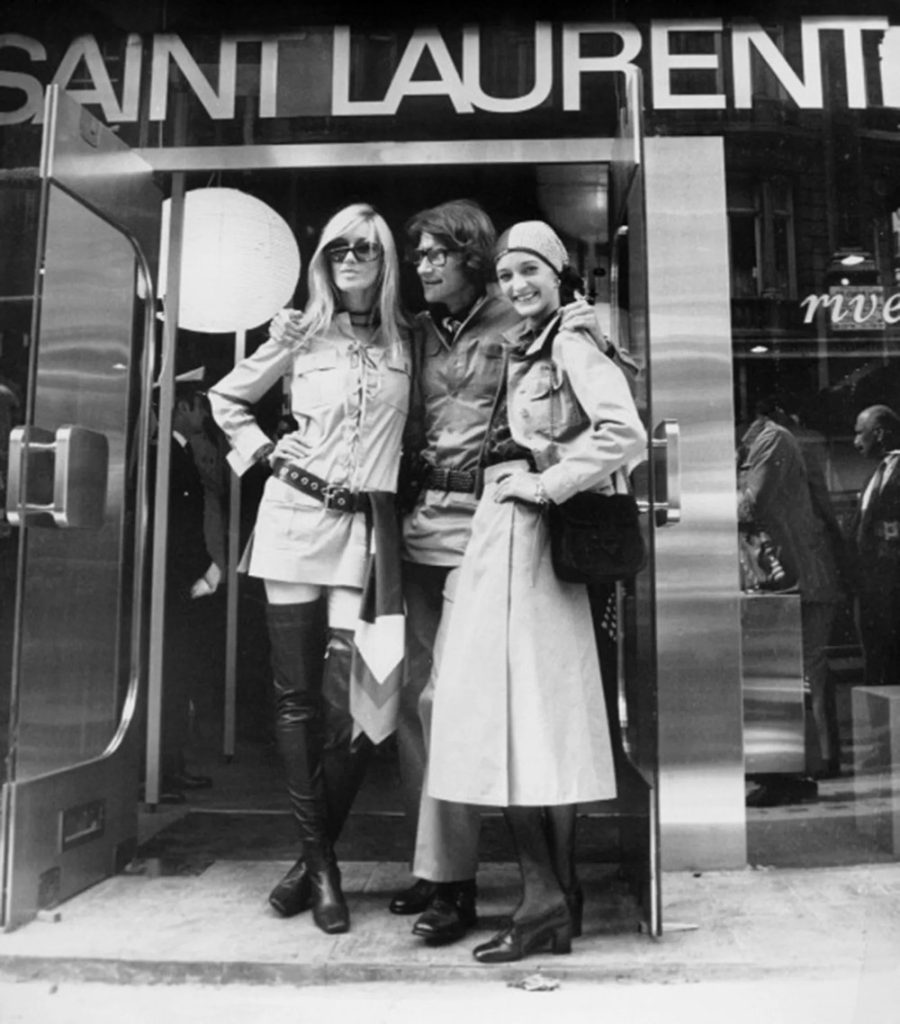 Introduced the concept of ready-to-wear clothing to the high fashion world through "Saint Laurent Rive Gauche" collection. This name was given after the Left Bank of the Seine River in Paris, which was known for its bohemian and artistic atmosphere.
It was created as a more accessible and affordable alternative to the traditional haute couture line of Yves Saint Laurent. It featured high-end materials and craftsmanship designed to be more youthful and contemporary.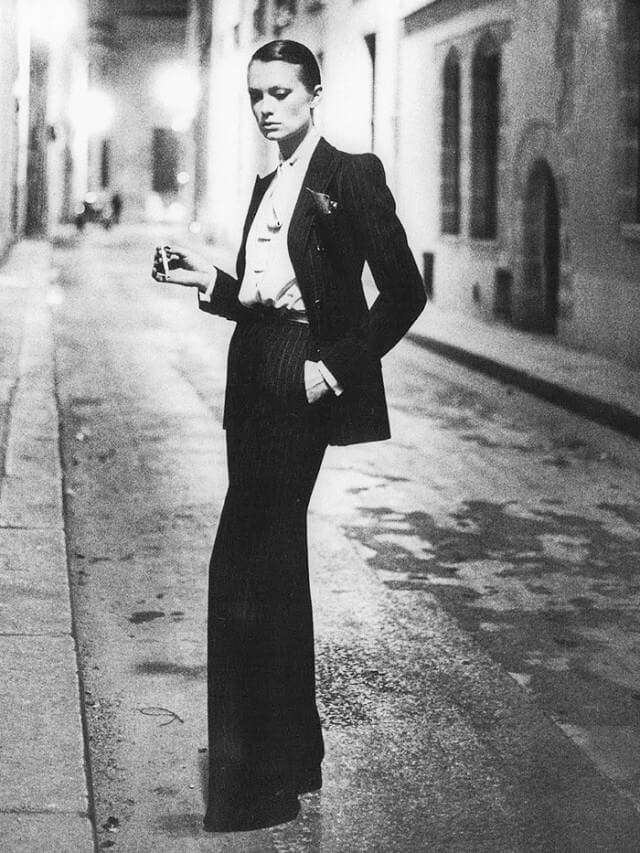 The same year, they introduced "Le Smoking" a tuxedo suit for women. The suit received press coverage as groundbreaking and revolutionary, as it was the first time a woman's tuxedo had been presented on the haute couture runway.
Le Smoking was inspired by the classic men's tuxedo, but it was adapted for the female form for formal occasions, with a nipped-in waist and flared pant legs with silk and satin fabrics.
1971
On January 29, 1971, Yves Saint Laurent presented his "Liberacion", "Libération" or "Quarante" collection inspired by 1940s wartime fashion. It was inspired by Paloma Picasso, who dressed in fleamarket finds.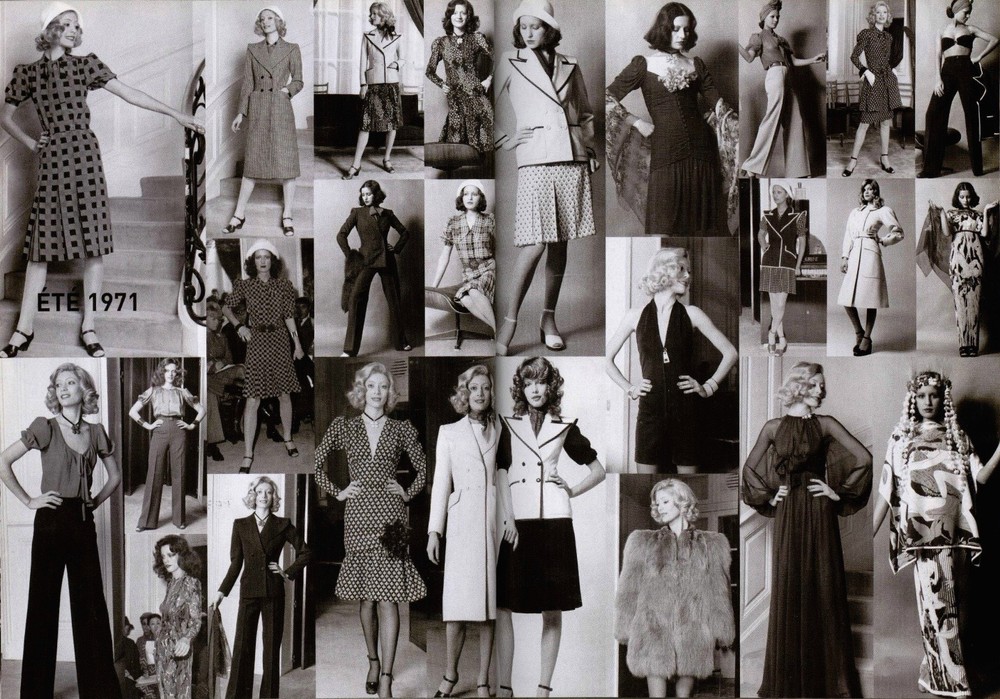 The short dresses, platform shoes, padded shoulders, and heavy makeup evoking Paris during the Nazi occupation of France during World War II caused a scandal. This collection was severely criticized by the press and gave rise to the retro trend that quickly ended up conquering popular fashion.
1978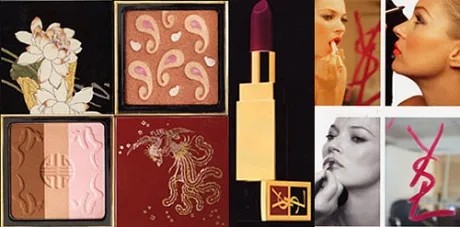 YSL introduced its cosmetics line that included a range of products – foundation, concealer, powder, blush, eye shadow, mascara, eyeliner, lipstick, and more. These cosmetics were designed to be modern and innovative and were formulated with high-end ingredients to match the YSL brand's caliber.
1983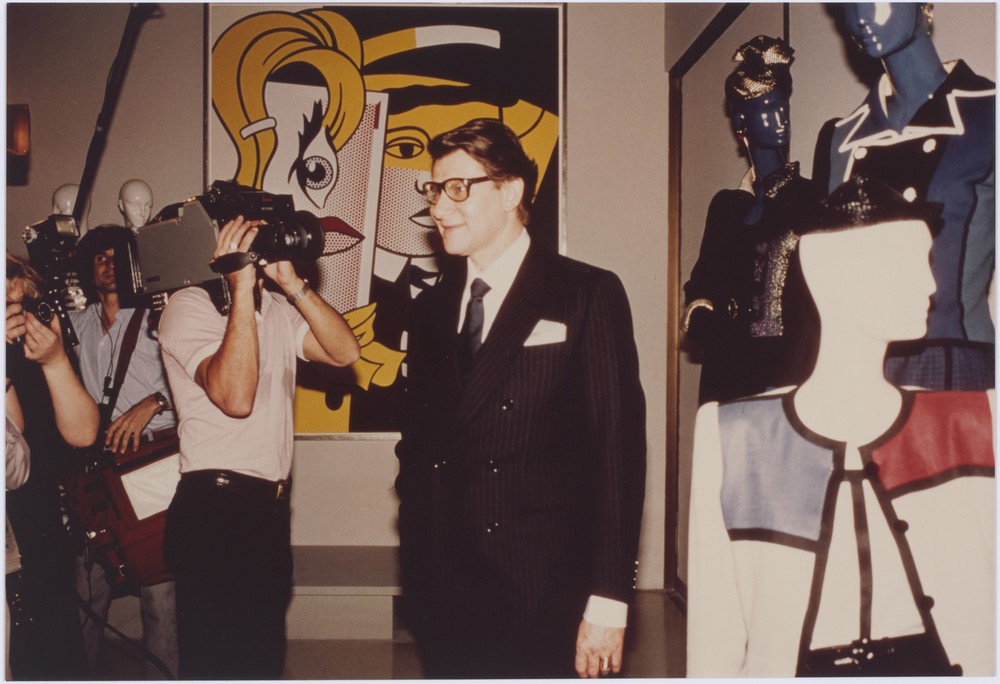 In 1983, the Metropolitan Museum of Art in New York held a retrospective exhibition dedicated to Yves Saint Laurent called "Yves Saint Laurent: 25 Years of Design" curated by Diana Vreeland. It showcased work from the time YSL founded his own fashion house in 1961 to 1983 when he retired as head designer of YSL. The exhibition featured over 200 garments and accessories, including many of Saint Laurent's iconic designs. It was widely considered one of the most significant fashion exhibitions of the 20th century and it was the first museum exhibition for a living fashion designer.
1993
YSL was sold by the company's co-founder Pierre Bergé to Sanofi, a French pharmaceutical company. This sale marked a new era for the brand, which had been struggling financially since Yves Saint Laurent's retirement in 1983. The new ownership brought in new management and designers, and the company began to refocus on its core luxury fashion business. They also expanded into new categories such as accessories and fragrances. This move was considered a turning point for the House of Yves Saint Laurent, and it helped to stabilize the brand's finances.
1977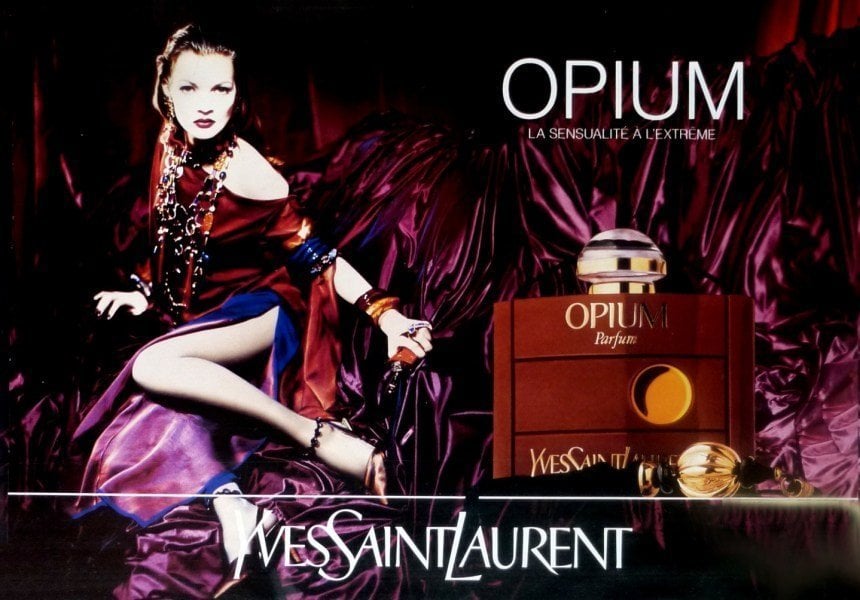 Launched a new line of fragrances "Opium" which caused quite a stir due to its controversial name and advertising campaign. The fragrance and its advertising were criticized for being in poor taste and for being culturally insensitive. Despite the controversy, the fragrance went on to become one of YSL's most successful and iconic fragrances, and it helped to boost the brand's market share. However, the incident also highlighted the challenges that YSL faced in trying to maintain its relevance and its luxury image in an increasingly competitive market.
1999
In 1998, the French luxury fashion house Yves Saint Laurent (YSL) was sold by its parent company, Sanofi-Aventis, to the Gucci Group (today known as Kering), a luxury fashion conglomerate. The acquisition by Gucci Group provided YSL with new resources and support, and it was expected to help the brand to continue to grow and evolve. The Gucci Group also appointed Tom Ford as the Creative Director of YSL, he took over the haute couture and ready-to-wear lines and presented his first collection in 1998 spring summer.
2000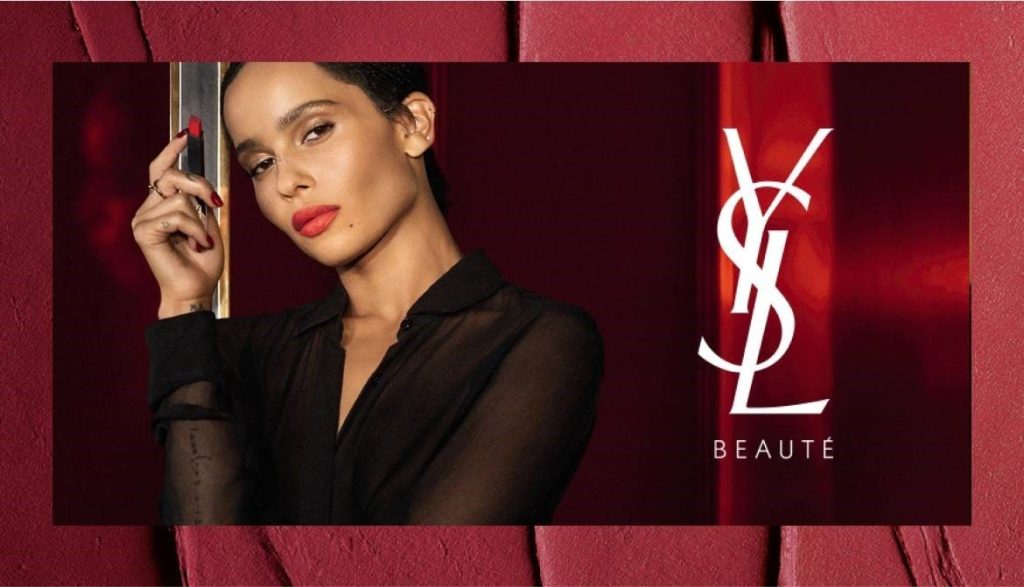 In 2000, YSL launched a new line of cosmetics called "Yves Saint Laurent Beaute". This line was developed in partnership with L'Oreal, one of the largest cosmetic companies in the world, and it featured a wide range of makeup and skincare products. This move helped to expand the brand's reach and reach a new customer base.
2002
In 2002, Yves Saint Laurent announced his retirement due to health issues and the closure of the Yves Saint Laurent Couture House. He had been in the fashion industry for over 40 years and had established himself as one of the most influential designers of the 20th century. The closure of the couture house marked the end of an era for the brand, but it continued to produce ready-to-wear collections under the Saint Laurent Paris name.
2004
Tom Ford left YSL in 2004, after serving as the Creative Director of the brand for four years. He was responsible for modernizing the image of the brand and rebranding the ready-to-wear line as "Saint Laurent Paris". Ford's tenure at YSL was considered a success, as he helped to revitalize the brand and increase its appeal to a younger generation of customers. After leaving YSL, Ford focused on his own eponymous fashion and beauty brand, Tom Ford. He also later established his own film production company and directed several movies.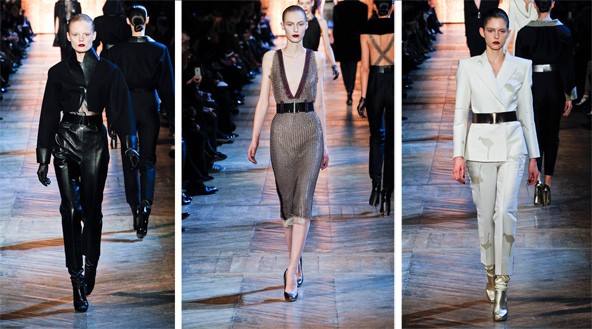 After Tom Ford, Stefano Pilati, a former Miu Miu designer joined YSL. He served as Creative Director for 8 years, from 2004 to 2012. During his tenure, he presented several successful collections and expanded the brand's accessories and beauty lines, and also introduced a men's wear line. Pilati's designs for YSL were generally considered to be more subdued and understated than those of his predecessor, Tom Ford.
2008
Yves Saint Laurent, the French fashion designer, passed away on June 1, 2008. He was 71 years old at the time of his death. His death was widely mourned in the fashion industry, and many designers and fashion icons paid tribute to him.
2012
In 2012, the Yves Saint Laurent brand was in the process of establishing a new creative direction under the leadership of designer Hedi Slimane, who joined the brand as Creative Director in March 2012. Slimane's first collection for the brand was presented in June 2012 during Paris Fashion Week. This collection was heavily influenced by the rock-and-roll style of the 1970s, which was a significant departure from the more classic and refined aesthetic that had been associated with the brand in the past. The collection was well-received by critics, and Slimane's designs helped to rejuvenate the brand and bring it back into the spotlight.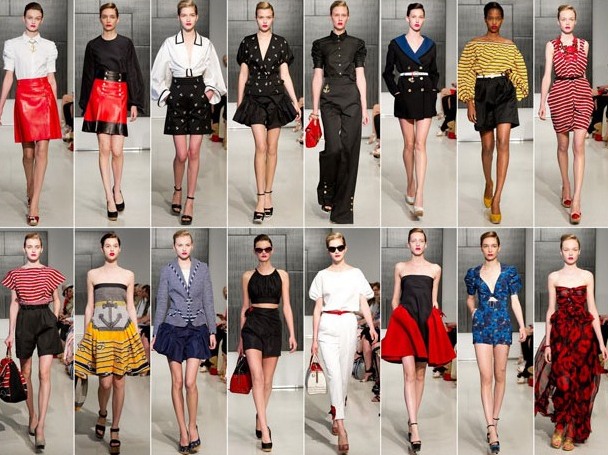 Before joining Yves Saint Laurent (YSL) as Creative Director in 2012, Hedi Slimane was best known for his work as the Creative Director of Dior Homme from 2000 to 2007. During his tenure at Dior Homme, he introduced a new, more youthful aesthetic for men's fashion, which was characterized by skinny suits and other slim-fitting designs. He also expanded the brand's product line to include a wider range of clothing and accessories, such as jeans, leather jackets, and sunglasses. Slimane's designs for Dior Homme were widely praised and helped to establish the brand as a major player in the luxury fashion market.
Before joining Dior Homme, Slimane worked as a designer for other fashion brands such as Jil Sander and Yves Saint Laurent Rive Gauche, where he was responsible for designing the men's wear collections. He also worked as a freelance designer, creating costumes for performers such as David Bowie and Daft Punk.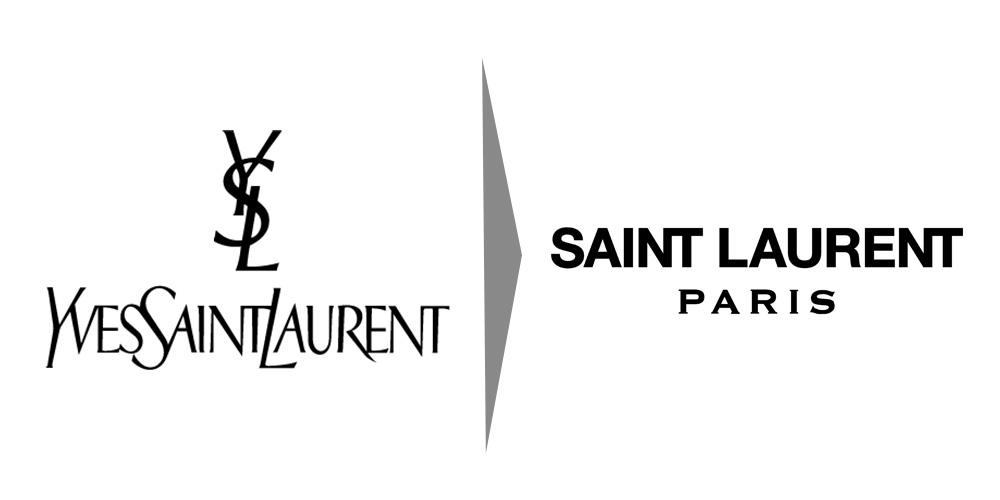 During his tenure, Slimane also changed the name of the brand to Saint Laurent Paris, and made significant changes in the stores and overall brand image, which was perceived as a more "rock and roll" look.
2013
Introduced Francesca Bellettini as the new President and CEO.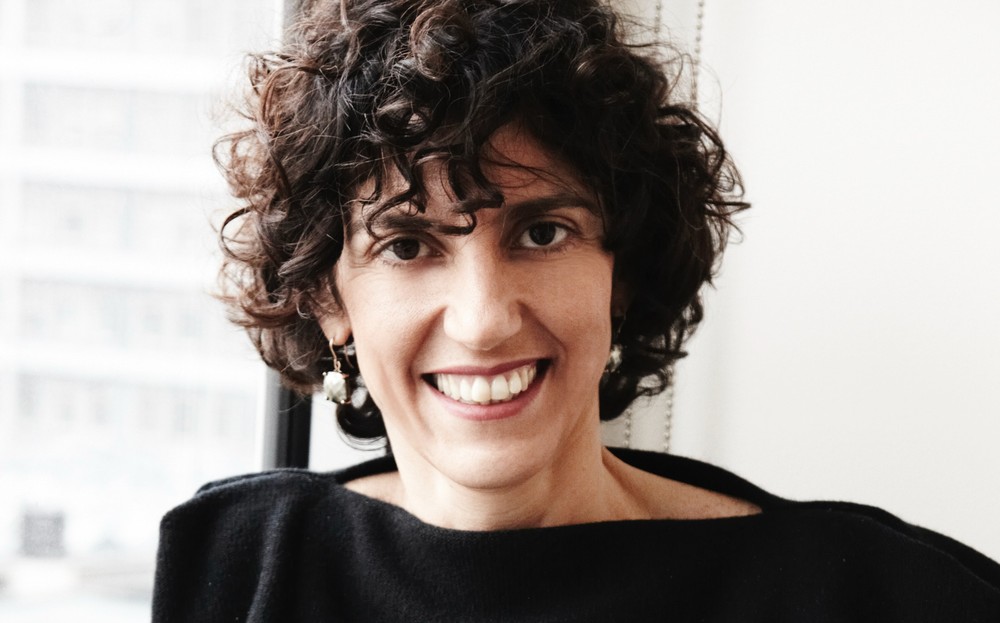 Before joining YSL, Bellettini worked in various executive roles at other luxury brands such as Bottega Veneta and Gucci. During her tenure at Bottega Veneta, she was responsible for the brand's global expansion and development of its retail network, and at Gucci, she was President and CEO of Gucci Japan and later, Senior Vice President of Gucci's Europe, Middle East, and Africa division.
As CEO of YSL, Bellettini is responsible for overseeing the brand's strategic direction, operations, and financial performance and implementing new initiatives to help the brand grow and evolve. She also works closely with the Creative Director, Anthony Vaccarello, to develop the brand's image, collections, and overall aesthetic.
2014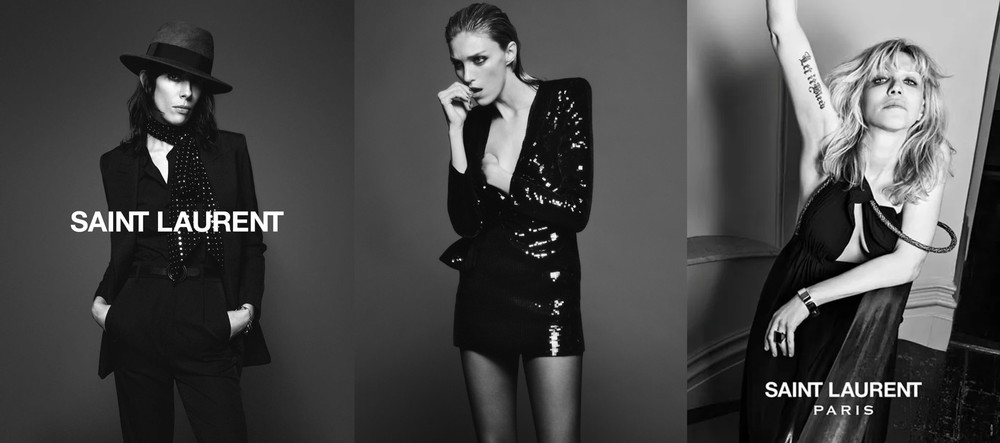 During this year, the brand opened several new flagship stores around the world, helping to increase its international presence and visibility. Additionally, the brand continued to be recognized for its advertising campaigns, which were heavily influenced by the rock-and-roll style of the 1970s and often featured models and celebrities such as Anja Rubik, Jamie Bochert, and Courtney Love.
2016
Hedi Slimane's departure from Yves Saint Laurent in 2016 was not without controversy. Some people in the fashion industry were critical of his tenure as creative director, and his departure was met with mixed reactions.
Some critics felt that Slimane's designs were too similar to those of his predecessor, Tom Ford, and that he failed to bring a new and distinct vision to the brand. Others felt that his designs were too focused on a specific, rock-and-roll-influenced aesthetic and that the brand should have been more diverse in its approach.
Also, his decision to rebrand the label as "Saint Laurent Paris" and drop "Yves" from the name was disrespectful to the brand's founder and legacy. His decision to close the couture line and focus on ready-to-wear was criticized by some as a move away from the brand's heritage and the legacy of Yves Saint Laurent himself.
Overall, while Hedi Slimane's tenure at Yves Saint Laurent was successful in terms of sales but his departure was criticized as necessary for the brand to move forward and evolve.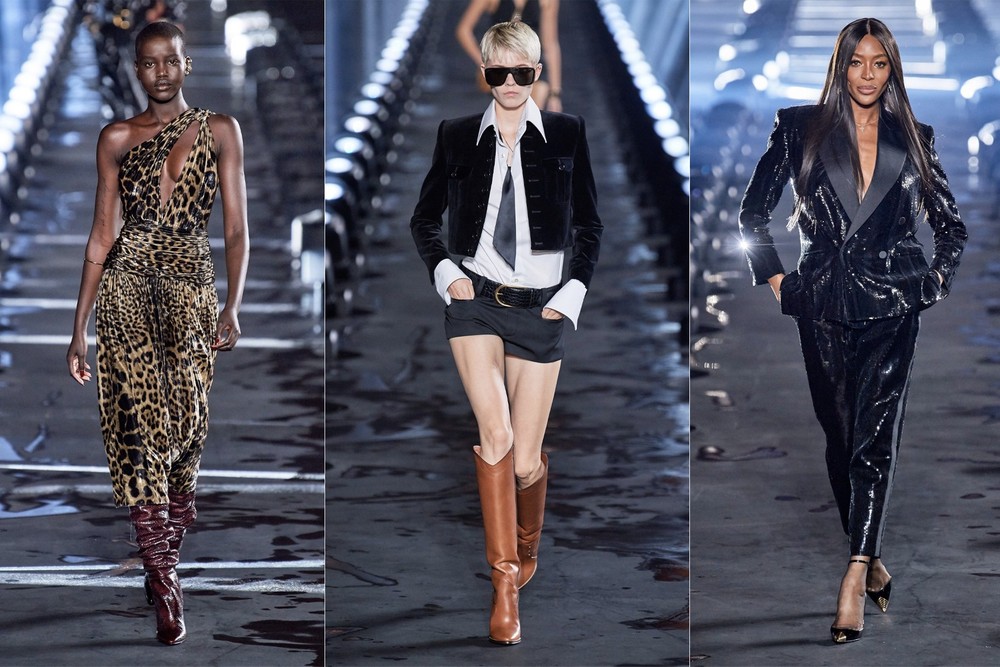 Anthony Vaccarello, who had previously worked for brands such as Versus and his own eponymous label, and was known for his sensual and provocative designs, and his first collection for YSL was well-received by critics and praised for his take on the brand's legacy and heritage.
2017
The Yves Saint Laurent Museum is a museum dedicated to the life and work of the French fashion designer Yves Saint Laurent. The museum is located in Marrakech, Morocco, in the Jardin Majorelle, which was owned by Saint Laurent and his partner, Pierre Bergé. The museum was opened in 2017, and it is dedicated to showcasing the work of the designer, including his sketches, garments, and other artifacts from his career.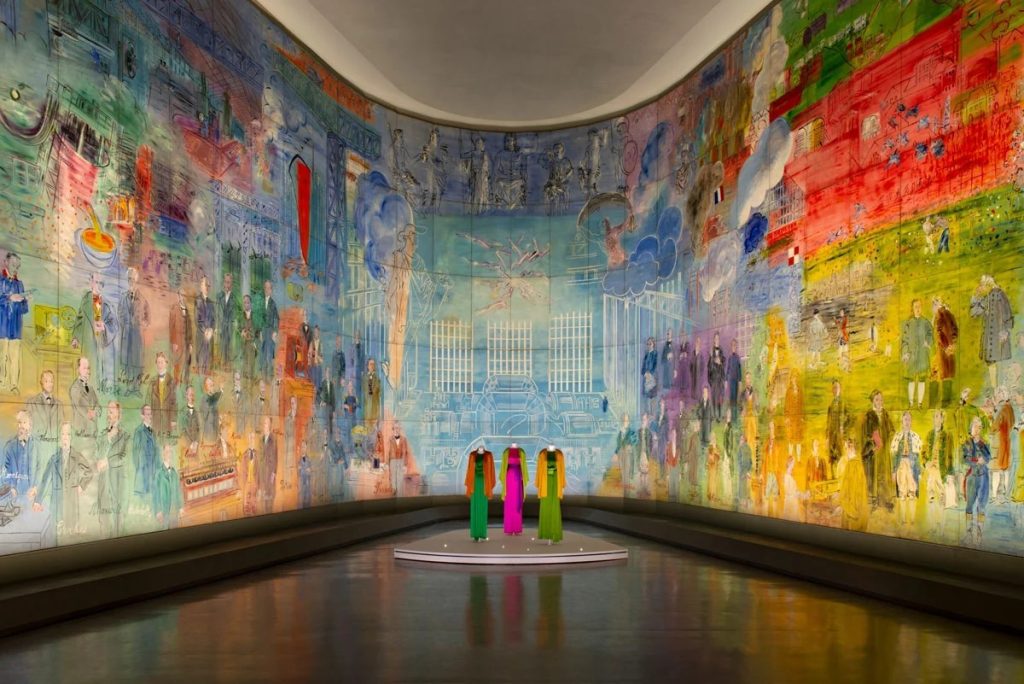 The museum also includes an exhibition space, a research center, and a library, as well as a restaurant and a boutique selling YSL-branded merchandise. The museum's permanent collection includes over 5000 haute couture garments, 15,000 fashion sketches, and thousands of other objects, such as photographs, films, and personal items, spanning Yves Saint Laurent's entire career. It also showcases the designer's love for art, including a collection of Islamic art, which influenced his work, and the garden that was designed by French painter Jacques Majorelle in the 1920s, which was purchased and restored by Yves Saint Laurent and Pierre Bergé in 1980.
2019
Saint Laurent achieved more than €2 billion in sales for the first time.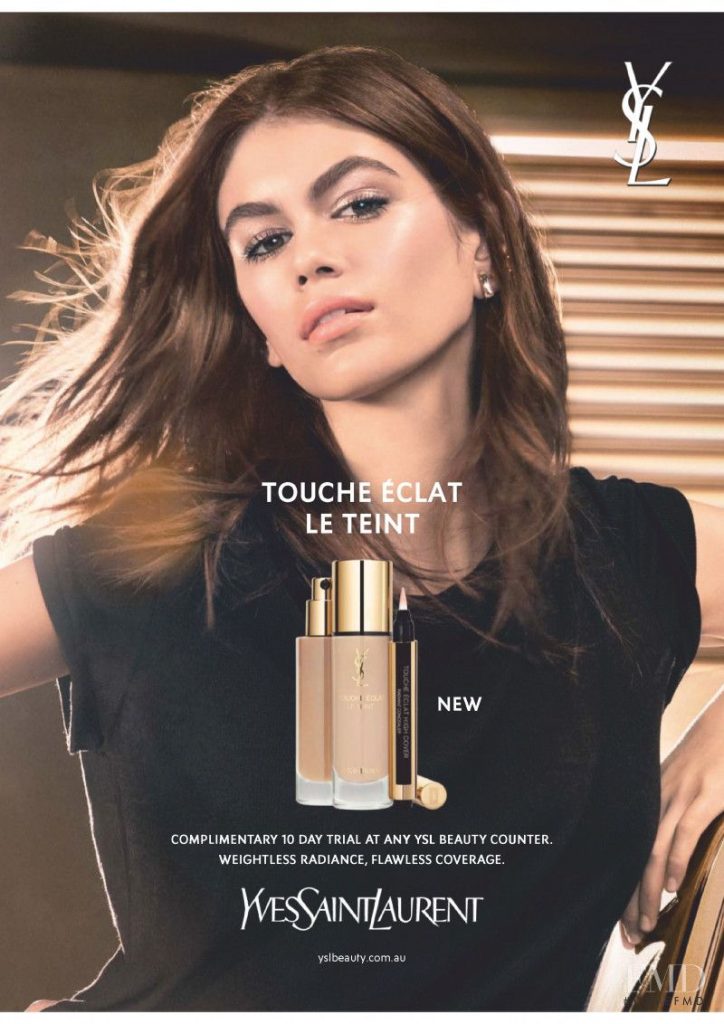 In terms of advertising, the brand continued to be recognized for its campaigns featuring models like Kaia Gerber and photographers like David Sims, which were heavily influenced by the brand's heritage.
In the same year, the brand celebrated its 50th anniversary and marked the occasion with a retrospective exhibition of the designer's work at the Petit Palais Museum in Paris.
2020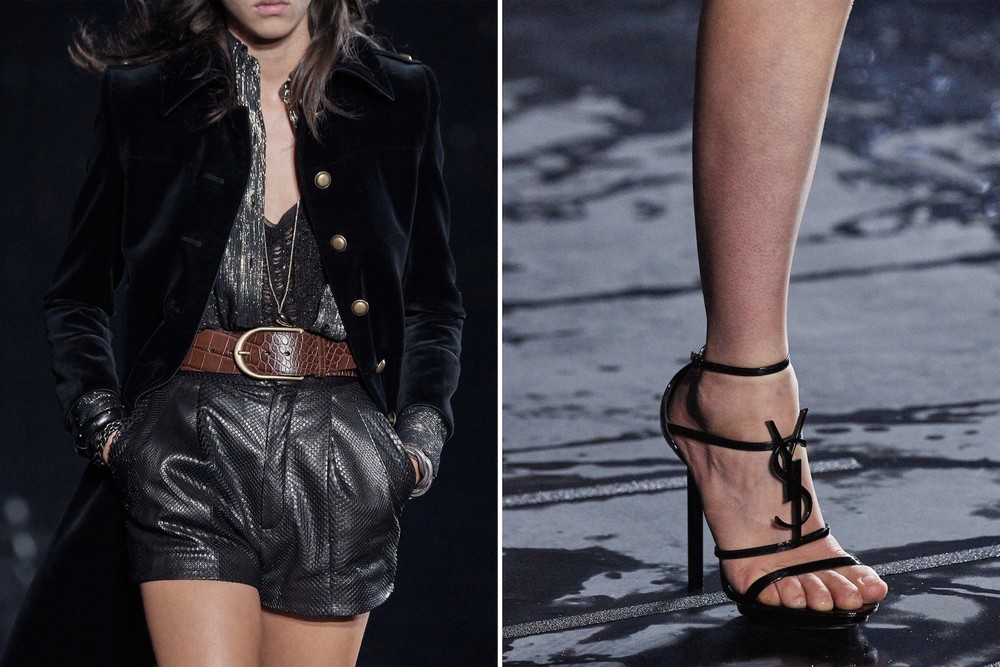 In 2020, the Yves Saint Laurent brand, under the creative direction of Anthony Vaccarello, faced the challenges caused by the COVID-19 pandemic. Many fashion brands and retailers were affected by the pandemic, which led to store closures, reduced consumer spending, and supply chain disruptions.
Despite these challenges, YSL continued to present its collections, including its Spring/Summer 2020 and Fall/Winter 2020 collections, through digital channels. The brand adapted to the situation by moving some of its sales and events to online platforms. The brand was also one of the many fashion brands that decided to show their collections during the digital Paris Fashion Week in July 2020.
---
In conclusion, as we saw the brand evolution of Yves Saint Laurent, its legacy continues to inspire and influence the fashion world. Please let me know what you think about this work in the comments below.