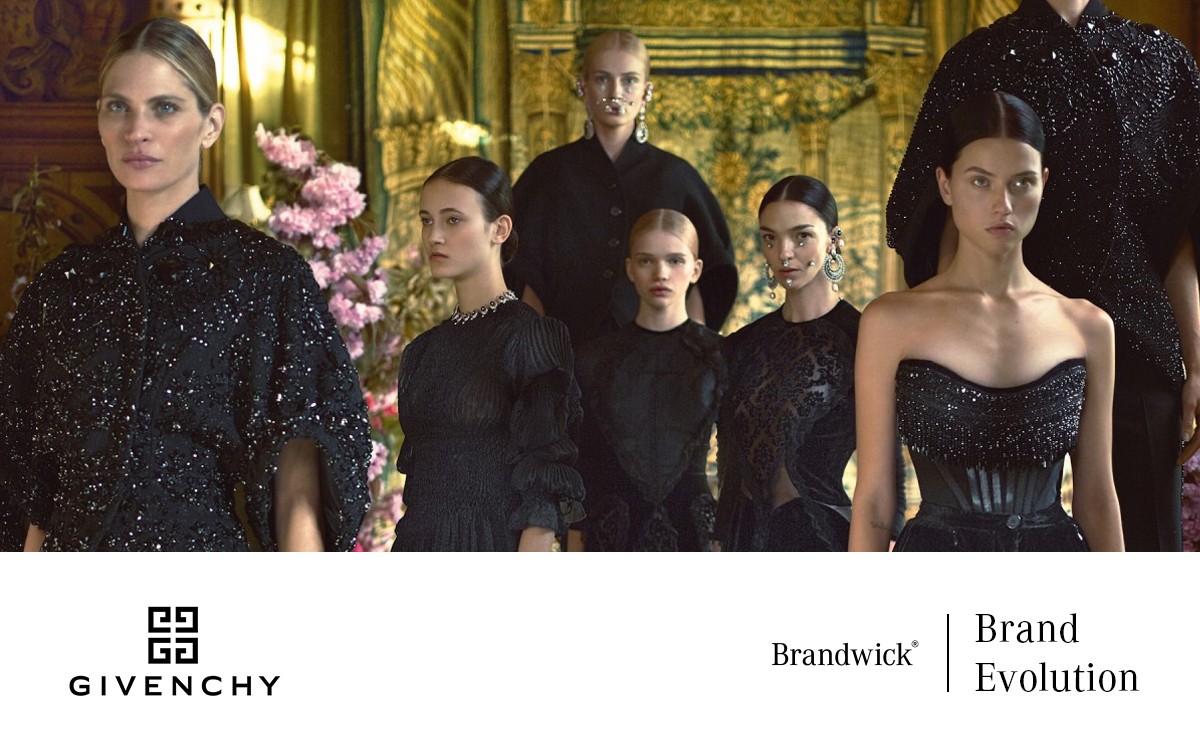 Givenchy: Brand Evolution
Givenchy is a French luxury fashion and perfume house founded by Hubert de Givenchy in 1952. It is among the most recognizable brands in the world today, and it is a symbol of French haute couture. Its clientele includes celebrities, including Audrey Hepburn, Grace Kelly, and Jackie Kennedy.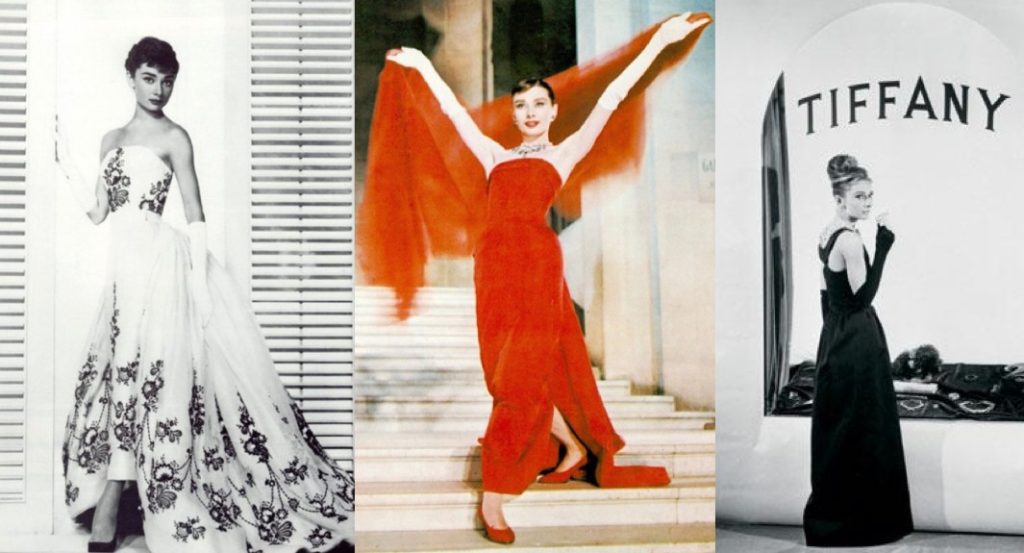 Today, Givenchy is owned by the LVMH (Louis Vuitton Moet Hennessy) group and is a leading fashion brand in over 70 countries.
Origin of Givenchy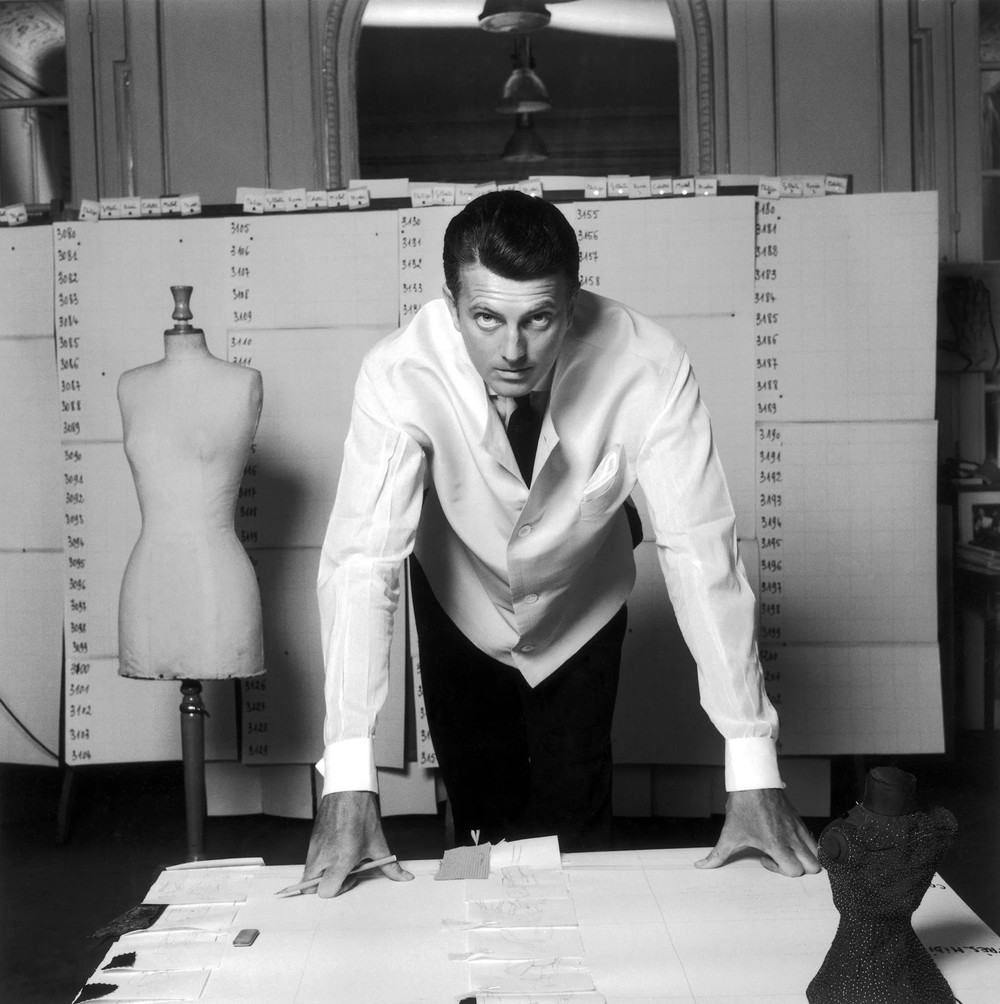 In 1952, when French designer Hubert de Givenchy was 24 years old, he established his fashion house in Paris, France, called the "House of Givenchy."

First collection and the iconic Bettina blouse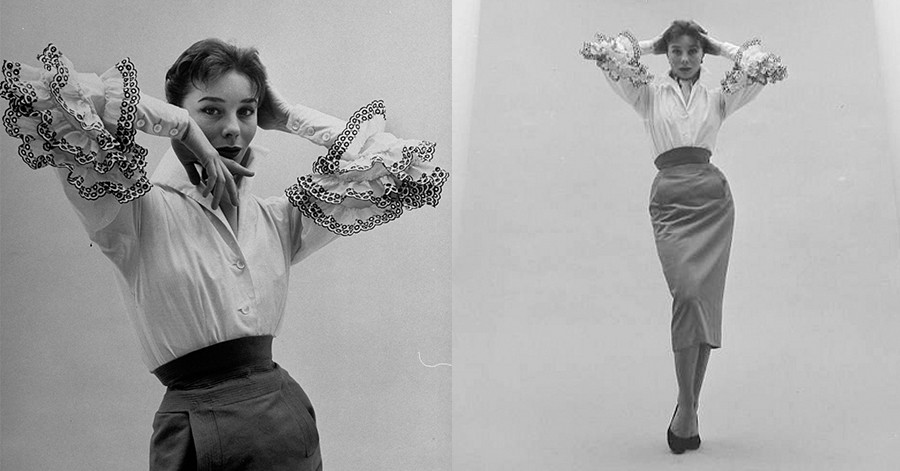 In 1953, Givenchy presented his first collection Les Séparables with some floaty skirts and puffy blouses made from raw cotton. Due to a scarcity of funds in the initial days, the first collection was made of men's white shirt material.
This collection included the iconic "Bettina blouses," named after the model Bettina Graziani. It is an elegant white linen creation with eyelet embroidery, a high neckline, billowing sleeves, and a fitted waist.
Givenchy achieved critical acclaim, with Vogue magazine praising his "wonderful first collection." The New York Times magazine published an article entitled "A Star Is Born," l'Album du Figaro also wrote a feature stating, "In one night, Hubert de Givenchy became one of fashion's most famous children with his first collection."
Audrey Hepburn: the muse that changed fortunes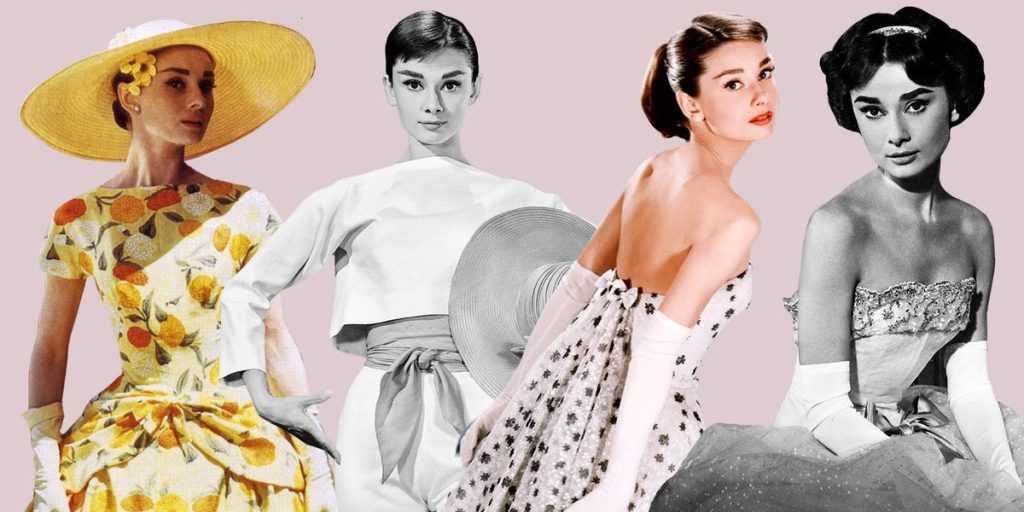 Audrey Hepburn escalated to become one of the most influential women in his life. Presidents' wives, duchesses, and queens considered it an honor to get their dresses and accessories at Givenchy, but he created his chef's d'oeuvres devoting to only Audrey.
She came to him being a young unknown American actress looking for suitable costumes for her character in the movie 'Sabrina.' Subsequently this movie received only one Oscar – for costumes. Later on Hubert de Givenchy confessed he considered Audrey an ideal image of the woman he wanted to create dresses for.
L'Interdit: the first perfume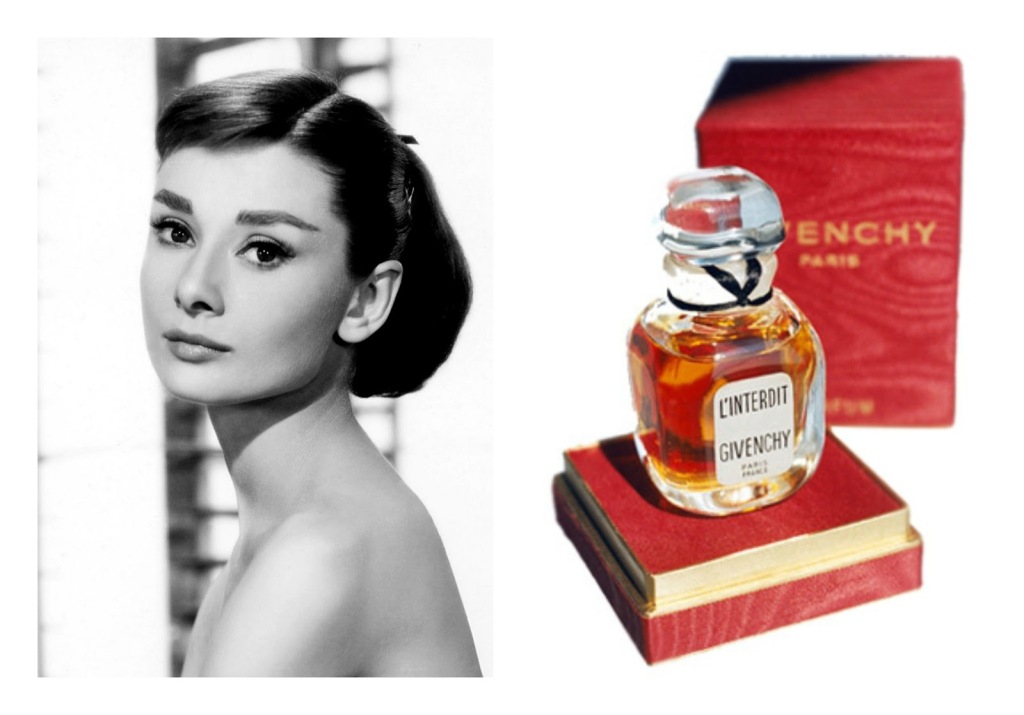 In 1957, Givenchy launched his first perfume, "L'Interdit," (which means "forbidden" in French), dedicated to his muse Audrey as a personal scent.
L'Interdit is a floral fragrance that is both elegant and sensual. The fragrance's top notes include orange blossom, bergamot, and mandarin, which give it a fresh and citrusy scent. The fragrance's heart is composed of jasmine, rose, and tuberose, giving it a feminine and floral character. The fragrance's base notes include vetiver, patchouli, and musk, which add depth and complexity to the scent.
Dawn of the "little black dress"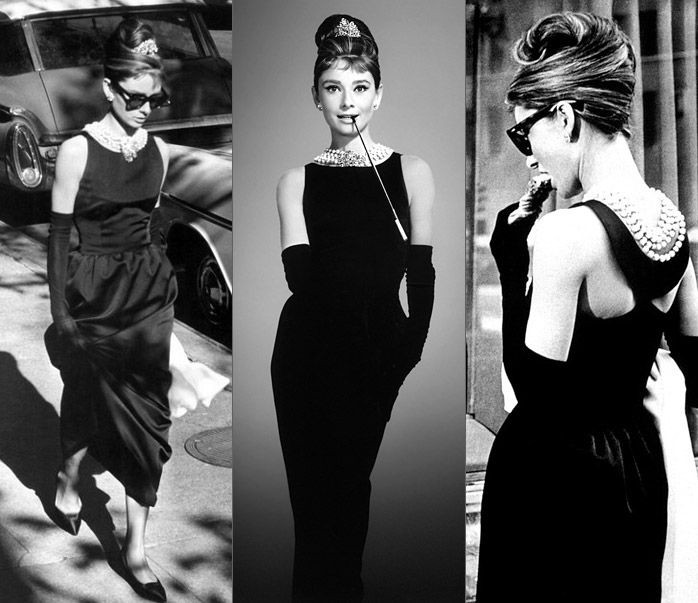 In 1961, Hepburn wore Givenchy's famous "little black dress" and the large-brimmed hat in the film "Breakfast at Tiffany's," which became an iconic fashion movement and made the brand famous across the globe.
It is a simple yet chic dress with a fitted silhouette, a scoop neckline, and short sleeves.
The dress became popular in the 1950s and 1960s and has remained a classic piece of fashion ever since. It is often cited as an essential item in a woman's wardrobe due to its versatility and timeless style.
The mere mention of Audrey Hepburn brings back an image of a beautiful lady wearing a long black dress and pearls outside Tiffany's store, which can be attributed to the art that Givenchy produced.
Gentleman Givenchy
In 1969, Givenchy introduced their men's collection – "Gentleman Givenchy."
In the same year, Givenchy launched a new line of ready-to-wear clothing called "Givenchy Nouvelle Boutique." This marked a significant departure from the brand's traditional haute couture focus and aimed to make high fashion more accessible to a broader audience.
Now a part of the LVMH family
In 1988, Givenchy got acquired by luxury conglomerate LVMH.
Givenchy spa
In 1991, a Givenchy spa was opened to bring more comfort and beauty to women's lives.
Bye Hubert de Givenchy, hello Galliano
In 1995, Hubert de Givenchy retired from fashion and was succeeded by British designer John Galliano, who only stayed for two seasons.
The Galliano effect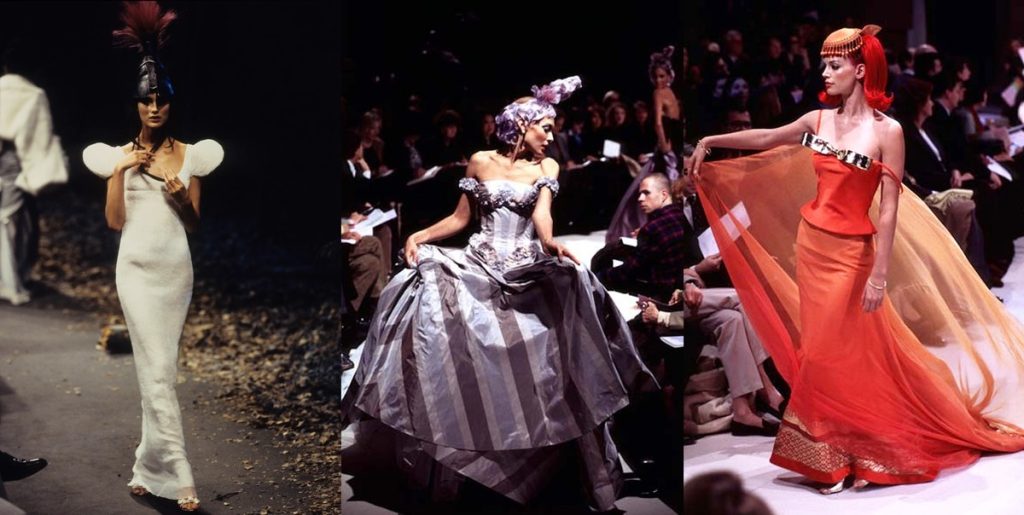 In 1996, John Galliano brought a more theatrical style with bold colors, intricate beading and embroidery, and over-the-top embellishments.
He introduced "Rocky Horror Picture Show" inspired Fall/Winter 1996 collection, which featured avant-garde designs that were both playful and subversive. The collection included corsets, fishnet stockings, and leather jackets, all designed to push traditional fashion's boundaries.
Further, Galliano was replaced by Alexander McQueen, who also left after two seasons. One of his collection "It's a Jungle out There" became famous.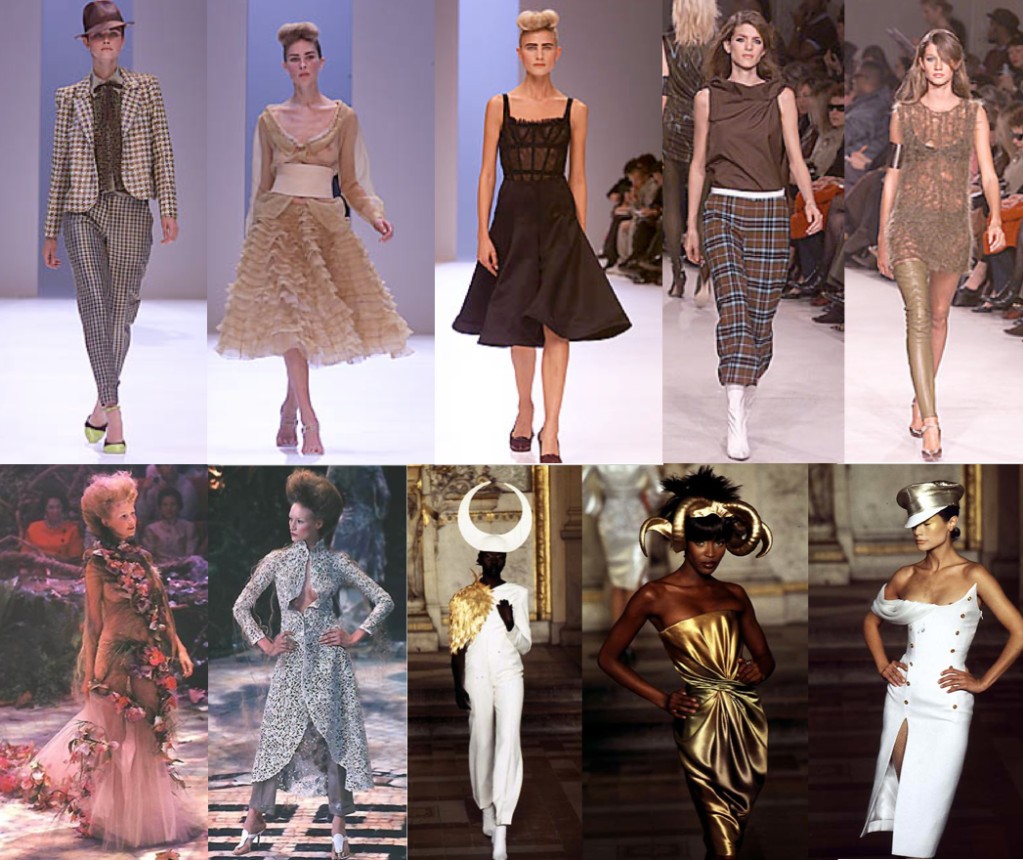 Julien Macdonald and intricate patterns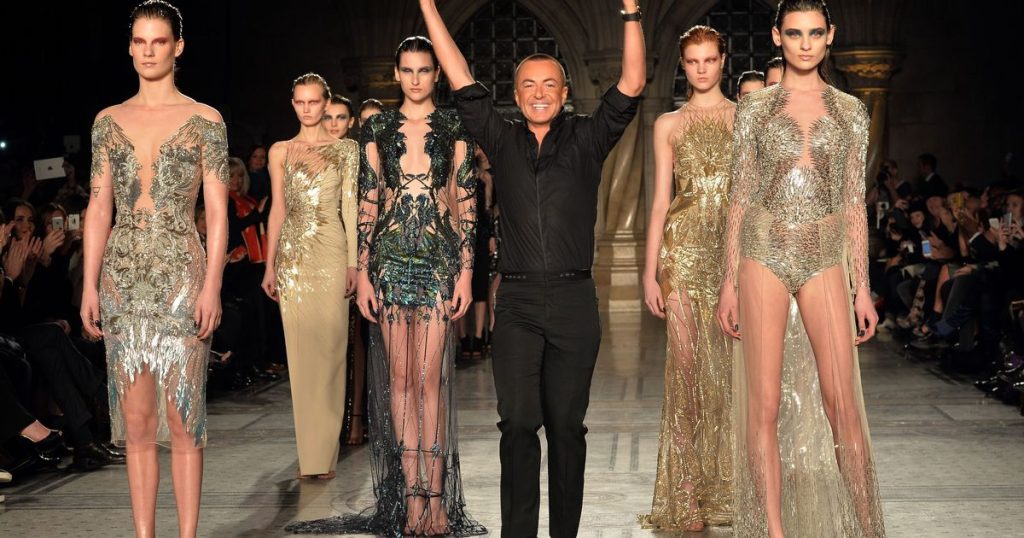 In 2001, American origin Julien Macdonald was introduced as a new chief designer. He was the former assistant to Givenchy. He brought a more youthful and glamorous approach to the designs during his tenure, incorporating bold patterns and high-octane embellishments, intricate embroidery, beading, metallic fabrics, and shiny sequins to create intricate patterns and textures on clothing to give them a futuristic edge.
Macdonald's designs for Givenchy were often inspired by pop culture and music, with nods to rock 'n' roll and punk. He was known for using animal prints, leather, and feminine silhouettes to create a unique and memorable aesthetic.
Reincarnation of the logo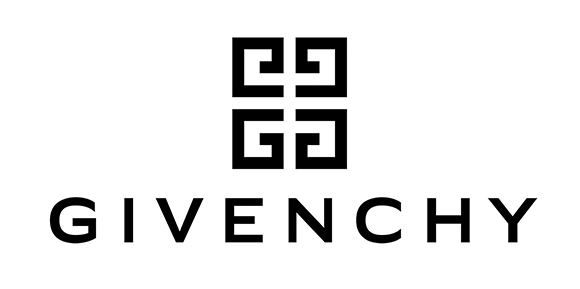 The Givenchy logo in use was created by Paul Barnes in 2003. The Givenchy logo is simplistic yet attractive. It comprises four 'G' alphabets coming together to create a bigger square.
Nightingale and Pandora
In 2005, Givenchy launched its first line of handbags, the "Nightingale" and "Pandora."
New dynamism and energy with Riccardo Tisci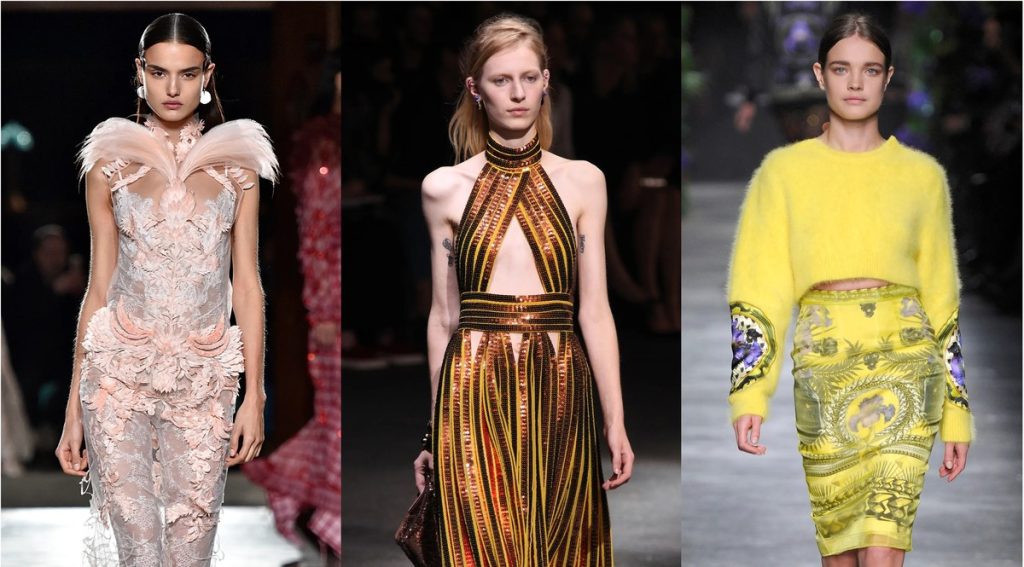 Italian designer Riccardo Tisci was appointed as creative director until 2017. He brought a new edgy and dark aesthetic to the brand, blending high fashion and streetwear elements. Also, he introduced religious and tribal iconography, bold prints, and graphic elements, such as stars and stripes, to create a sense of dynamism and energy in his designs.
Tisci was also known for his collaborations with other artists and designers, such as the photographer Marina Abramovic and the streetwear brand Nike. These collaborations helped push traditional fashion's boundaries and showcase Givenchy's ability to innovate and experiment with new ideas and concepts.
First female artistic director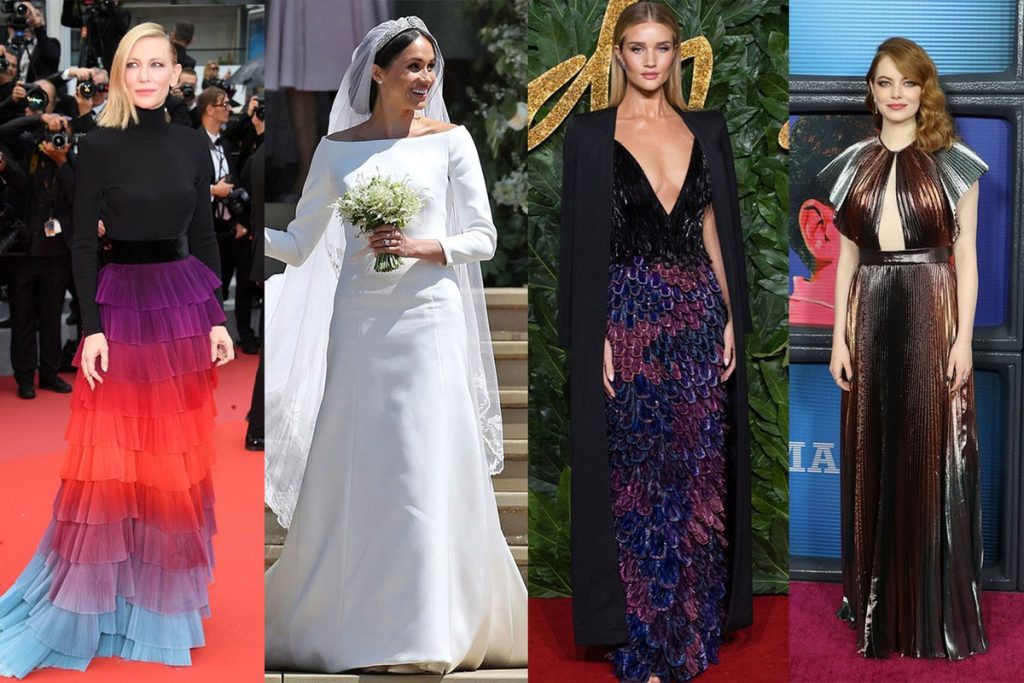 In 2017, Tisci left the brand and was succeeded by Clare Waight Keller, who became Givenchy's first female artistic director.
Waight Keller brought a more feminine and romantic approach to the brand's designs through elegant and sophisticated silhouettes, which she combined with intricate embroidery and delicate lace to create a romantic and ethereal aesthetic. She also incorporated elements of streetwear and sportswear into her designs, giving them a contemporary edge.
Waight Keller was known for her attention to detail and her use of high-quality fabrics and materials. She often collaborated with artisans and craftspeople to create unique and one-of-a-kind pieces.
At the royal wedding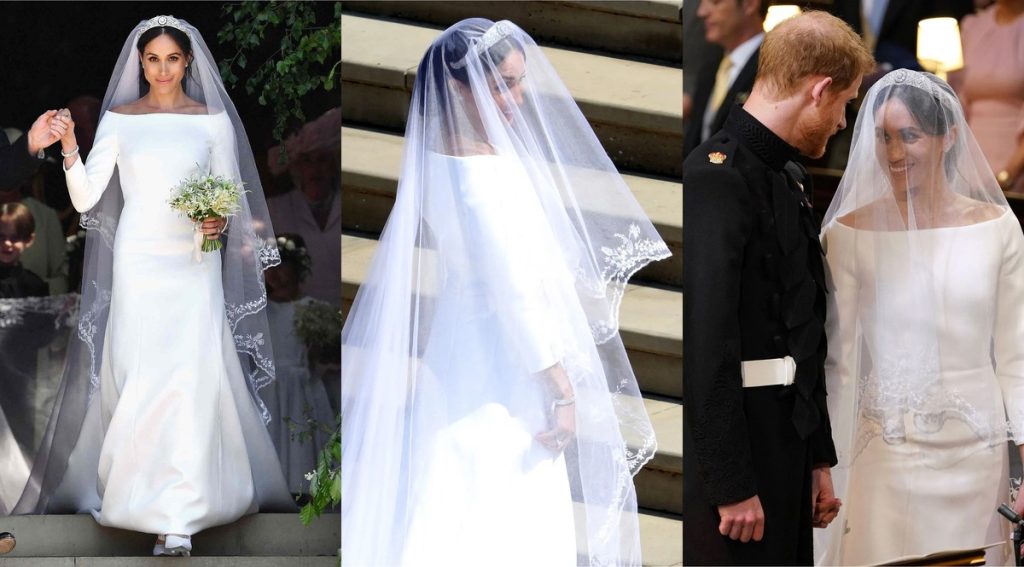 In 2018, Meghan Markle, now the Duchess of Sussex, wore a Givenchy wedding dress for her wedding to Prince Harry. Clare Waight Keller, the creative director of Givenchy, designed the dress.
The dress was made from a double-bonded silk cady fabric, featuring a boat neckline and long sleeves. The silhouette was simple and elegant, with a fitted waist and a flowing train over five meters long. The veil was made of silk tulle and featured hand-embroidered flowers from all 53 Commonwealth countries.
The dress was also seen as a tribute to the minimalist aesthetic of Givenchy founder Hubert de Givenchy. It cemented the brand's reputation as a go-to for modern and sophisticated bridal wear.
The futuristic Givenchy
In 2020, Matthew M. Williams, an American designer known for his streetwear brand Alyx, was appointed as the new creative director of Givenchy.
His appointment was seen as a reflection of Givenchy's desire to appeal to a younger and more diverse audience. He has incorporated sportswear, utilitarianism, and technology elements into his designs, giving them a modern and edgy feel.
Williams has also collaborated with other designers and artists to bring new perspectives and ideas to the brand. He has worked with the artist Sterling Ruby to create a capsule collection that explores the intersection of fashion and art. He has also collaborated with the Japanese designer Yoon Ahn to create a jewelry line for the brand.
Conclusion
Givenchy has been worn by many famous people throughout its history, including Audrey Hepburn, Jackie Kennedy, Grace Kelly, and Meghan Markle. After seven decades, Givenchy continues to be a leading luxury fashion brand and will be in decades to come.